This Amazon Affiliate Website Reached $80,000/m Within 9 Months
Amazon affiliate has been the best performer for many people recently. The earning per user is so much that even those who were previously focused on Google Adsense, have shifted their focus on Amazon affiliate sites.
In August 2016, Tung Tran published a case study of 10beasts.com by Luqman Khan. It made $4600+ within 4 months of it's launch.
10Beasts just reached $80,000 per month in revenue in December 2016. Glen of viperchill published a post about it on Gaps, his new website. The post has just resulted in a huge traffic for Glen, more than even the launch day.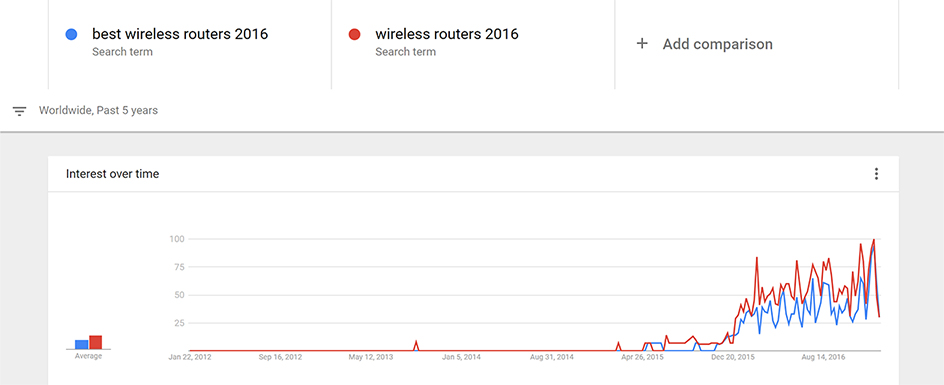 So, what is so special about 10Beasts?
Luqman started this website with almost no budget. It has only 8 articles, that are list style, reviews of best X products.
He put so much time on SEO and promotion, that it lead him to top positions on Google.
The focus on year number…
He has been using 2016 with all articles, example: Best Wireless Routers 2016 – Buyer's Guide. Which is now changed to 2017, expecting even more traffic this year.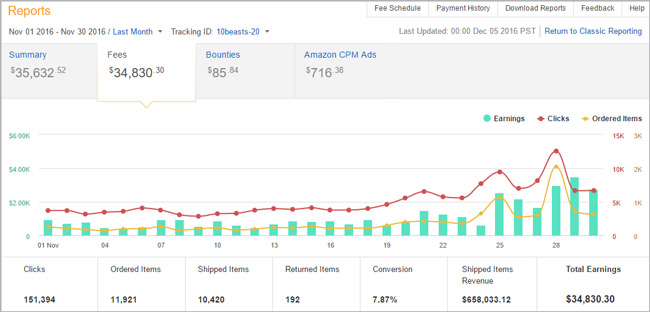 Let's have a detailed look on this website…
Domain and Hosting
The domain was registered on 29th March 2016 via eNom (Namecheap most probably). Not an old domain. It has whois record protected. I have seen many people talking against whois protection for better rankings, but in this case it doesn't proof well. You may choose any domain registrar, it doesn't matter.
It is using Cloudflare's DNS, while some many resources are loaded via WPEngine.com's cdn. Using wpengine hosting perhaps?
If you're just starting now, consider BlueHost (affiliate link), which is cheaper than WPEngine and reliable as well.
If you signup with my affiliate link, I will also setup the website for you at no cost.
Theme and Plugins
10Beasts is using Aspire Pro WordPress Theme by Studiopress (Genesis Framework). The look and feel has been slightly modified to fit the need. Any 2-column theme would work fine. Check blog/magazine style themes at Themeforest, MyThemeShop, and ElegantThemes as well. Many Amazon sites have been using 'FocusBlog' theme.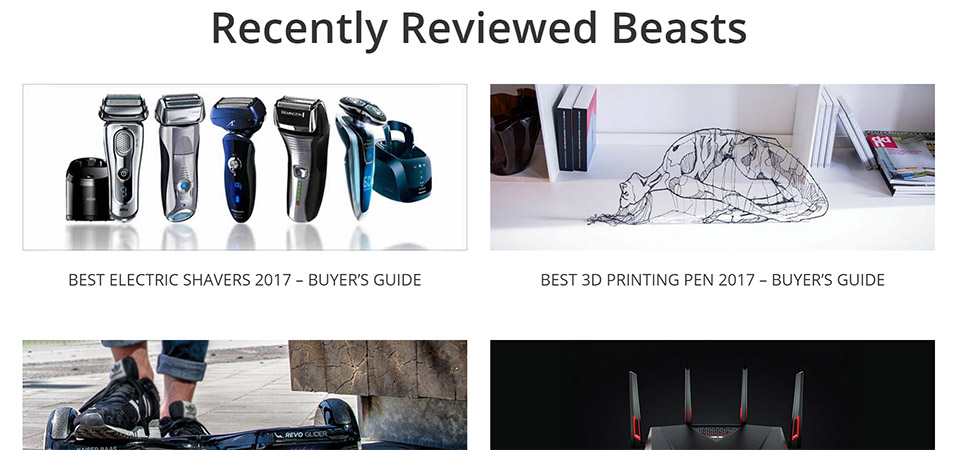 Plugins
Tablepress is used for creating beautiful comparison tables. It creates search engine friendly tables that show on google's search results as well.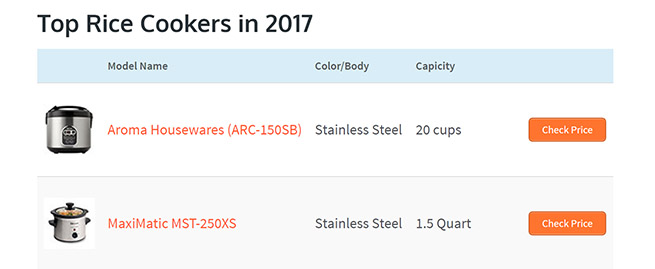 Shortcodes Ultimate for creating pros & cons table, Check Price buttons in comparison tables, and beautiful boxes.
Q2W3 Fixed Widget for fixed sidebar boxes with lists and affiliate banner links.
Widget Logic (or Advanced Custom Field Widget) for page specific widgets.
Contact Form 7 for creating email contact forms.
Monarch social plugin by ElegantThemes for social sharing buttons within posts, below titles, and floating left bar.
The Content
Articles at 10beasts are 2500-4500 words long, consisting of intro, comparison table, and detailed review of each product. It is better if you launch website with 15000-25000 words of content. Google's top 10 results are filled with long articles. This screenshot will give you an idea.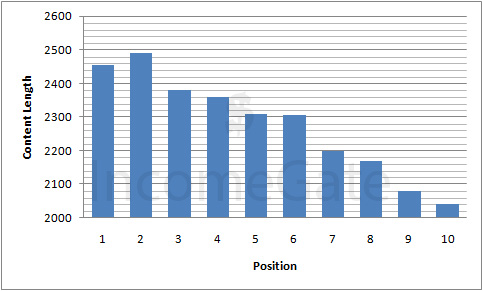 Posts are beautifully crafted with color boxes (Shortcodes Ultimate), comparison table (TablePress) with "Check Price" button going to amazon, and product name linking to the detailed review on the same page.
Each product review has a heading, partially linked to amazon. Beautiful pros & cons tables with list icons making the content engaging. Affiliate links with product name are present within paragraphs as well. The product thumbnail also has a link to amazon.
The sidebar has a fixed widget with links going to article sections, and a Best Model photo with Amazon link.
The goal is to send as many clicks to amazon as possible. Referrer link will leave a cookie for 24 hours. During this period, any product bought via Amazon will earn you a commission.
10Beasts is covering "Best XXXX" articles in completely unrelated niches (electric shavers, 3D Pen, Wireless routers). Another way is to build a niche specific website.
For example, you might consider a site around "Best Electric Shaves". Ideally, you will need to have a long homepage article, with links going to sub-articles, such as: Best Panasonic Electric Shaves, Best Cordless Electric Shaves, etc.
You may further categorize it by Type, Brand, Purpose, etc. Make sure you interlink your content well enough.
Traffic Source
10Beasts gets most of its traffic from Google. It is evident that 3 pages have contributed the most in making that much revenue. The work he has done on SEO is superb. In his interview at cloudliving, he also talked about Sponsorship he offered, which resulted in quality backlinks from .edu sites.

Similar Sites
A relatively new website, BestProducts.com by Hearst has been making 6-figure a month right after its launch. Glen talked about the unfair advantage given to big brands on his website here. These big brands have their websites occupying most of top 10 results in Google.
Tung Tran's $10k challenge, thankyourskin.com is an example in health niche. Read his experience on this project here.
TheWireCutter.com on technology and TheSweetHome on Home/Kitchen are another examples to get inspiration from. Last time i read, they had been generating consistent $50,000+ a month.
Search google for "Best XXXX reviews" or "Best PRODUCT 201x", and you will see plenty of similar sites, all generating good income, better than Google Adsense (earning per visitor wise).
How do you start it?
There are literally thousands of industries you could create an affiliate websites in.
Best place is to look at Amazon's categories page and bestsellers page. Browse through categories, find sub-categories, and you will find something that catches your eye.
It is highly recommended that you choose products with $100+ price range, and 4+ stars rating. Higher priced products will make you more commission.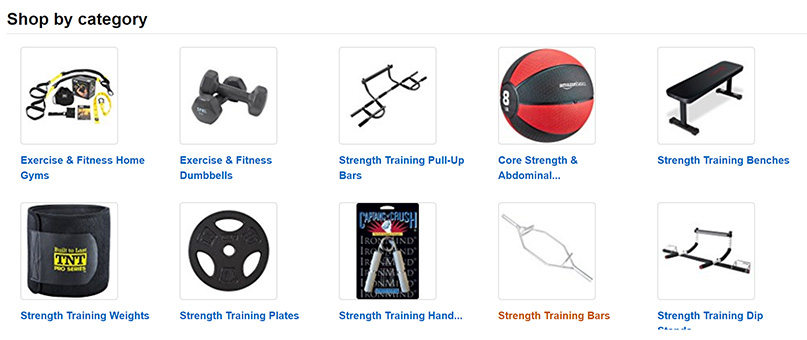 When you have chosen categories, look at Google Keyword Planner and Google Trends.
For example, if you selected Gaming Keyboards, check search volume for Best Gaming Keyboards, Best Gaming Keyboards 2016, and Gaming Keyboards 2016. Don't use 2017 for research yet. 2017 data will be updated soon by google. 2016 will give you an enough idea.
Typically, any keyword with 3000+ monthly search volume will be profitable.
If Google Keyword Planner is not showing monthly searches for you, use ToolFeast.com or Keywords Anywhere Firefox/Chrome Plugin (Keywordkeg.com).
You might see authority sites ranking on first page of google. With consistent SEO you may secure the top position. Use combination of QA sites, Web 2.0 blogs, Guest Posting, Videos and Photos backlinks, Wikis, and Social Media. Will post more on this soon.
I have had good sales with longtail keywords, such as, Best Wireless Gaming Keyboards 2016. This may send less traffic, but such are easier to rank.
If you have access to SEMRush and Ahrefs, you can even fetch keywords and backlinks of top sites and try to replicate it.
What to be careful about…
Avoid Amazon logos. Even the thumbnails at 10beasts has casual "View on Amazon" written on it. Publishers are known to have their accounts suspended on using Amazon logos.
Don't mention prices, discounts, or deal offers. They need to be accurate, or removed if the discount is not offered anymore. Never offer incentives on buying through your affiliate links. Read amazon's policy regarding this.
Add Amazon Affiliate Disclosure, Privacy Policy and Terms of Services on your website. Not having any of these may lead to account suspension.
Conclusive Remarks..
On paper it looks simple and easy, but it will need determination, hard work, and persistence. Luqman has put in countless hours and sleepless nights to grow this website to this level. He can be your inspiration.
His results will motivate you enough and will keep you get going.
Share your experience in comments.
I will setup an amazon affiliate website for you if you signup for web hosting at Bluehost with my affiliate link at no cost.
You can also get the complete Done-For-You package, including a Premium theme from MyThemeShop, 15,000 words of content, Domain, Niche, and Keywords suggestions, Properly formatted articles, Pros & Cons Tables, Affiliate links, and on-page SEO for $499. Contact me here…
If you have anything i could help you with, or looking consultancy, please feel free to contact any time.